Hello all,
Here is my first linky party! As the new school year is coming sooo close...what is your "Last Minute Summer" plans or projects that you are trying to squeeze in!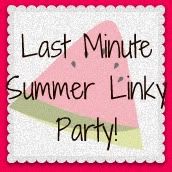 Well for me....
1. I am obsessed with making things. Forget Beckers and other teacher stores...I am wiping the dust off my laminater and going to town printing, making, and laminating. So check out my tpt store soon!
Also.....please I need one more beach trip! :)
This is a Blog Hop!
---

Please link up!


Thanks!