Join the 11 in 11 Linky Party at Miss Kindergarten!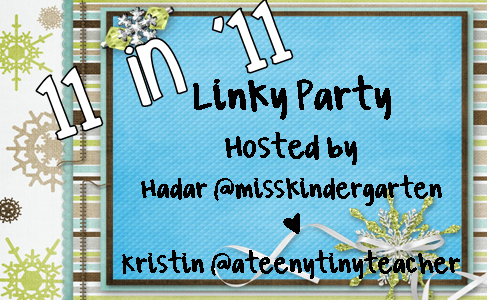 11. Favorite movie you watched:
10. Favorite TV series: LOVE IT!
9. Favorite restaurant: Just went there yesterday! And I got tons of gift cards :)
8. Favorite new thing you tried:
Scrapbooking is Fabulous!
7. Favorite gift you got: From my Fabulous Fiance! :)
6. Favorite thing you pinned:
Well I love pinterest! :)
5. Favorite blog post:
Check out my peppermints I got from The First Grade Parade!
4. Best accomplishment: making the difference in my first graders life and making a blog! :)
3. Favorite picture: My fiance and I at Christmas! :)
2. Favorite memory:
When my fiance and I got engaged last Christmas!
1. Goal for 2012:
To become a stronger person with my emotions, feelings, and confidence.
Link up!
Thanks!